Birding Pyrenees
Birding Pyrenees – Exceptional bird life in a magnificent mountain setting …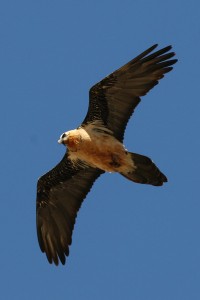 We have been living in the Pyrenees and observing the bird life here for nearly 30 years. We are out in the hills almost every day. We can help you enjoy the superb Pyrenees birding. At any time of year we can advise on what can be seen and where. Wallcreeper, Black Woodpecker, Lammergeier, Alpine Accentor, Snow Finch can all be found locally.
We provide guides to the best birding spots, route guides for footpaths and we have our own local species list (all free if you book accommodation through ourselves), perfect if you want to do your own thing. Otherwise we can organise a day or two with a local expert ornithologist.
Wahetever your choice you will benefit from our extensive local knowledge.
The area excels in the number and variety of raptors — Bearded Vulture (seven pairs nesting locally), Golden Eagle, Booted Eagle, Bonelli's Eagle, Short-Toed Eagle, Egyptian Vulture, and the ever-present Griffon.
From the terrace of our apartments in Barèges one can observe just about all the Pyrenean raptors flying over the mountain side opposite — the very aptly named Montagne Fleurie (Flower Mountain).

The bird many enthusiasts will want to see is the elusive Wallcreeper (above). During the summer it is seldom found below 2,000 metres, but during the winter and spring it can be found at lower altitudes in and around the villages, we have even had it in our back garden!
These wallcreeper photos were taken by our friends David Lingard and Roger Buglass.
Our closest nesting site is two hours walk from Barèges (we have observed the birds regularly through to mid-July) and there are other sites more accessible by road. The bird otherwise can always be found high on the frontier ridge at 2500m. For good walkers we can organise a day to accompany you to the most reliable sites.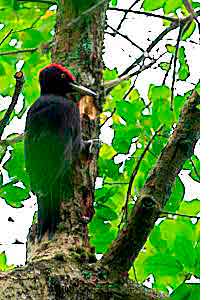 Other species found locally which will be of interest are Eagle Owl, Alpine Accentor, Snow Finch, Citril Finch, Capercaillie, Rock Thrush, Firecrest and Crested Tit. We also have a good number of Black Woodpeckers (left) locally around Bareges.
Our extensive bird lists are an invaluable aid to finding where particular species can be found and can be used with our route guide to the local footpath network
We explain personally what you can expect to find and where you can find it.
Accommodation – choose between superb 3-star hotels or stay in our own quality apartments.